Coronavirus (COVID-19)
With the Coronavirus (COVID-19) now in Ireland, we are conscious some members of Ballincollig Credit Union may wish to avoid coming into our offices to carry out transactions. Therefore, we would like to remind our members that most of our services are available through our online services.
Online Services: Log In
Online Services: Register
APP: Download
Members can also call Ballincollig Credit Union to carry out a transaction.
Phone: 021 4872305
Ballincollig Credit Union can also be contacted via email.
Email: info@bcu.ie
Information and contact can also be made across our social media. Follow us here Facebook, Twitter, and Instagram.
HSE Coronavirus (COVID-19): Information Poster
Coronavirus (COVID-19)

The Facts
Most at Risk
Anyone who has been to an affected region in the last 14 days AND is experiencing symptoms
Anyone who has been in close contact with a confirmed or probable case of COVID-19 (Coronavirus) in the last 14 days AND is experiencing symptoms
Stop the spread with these handy tips.
Follow these tips from the World Health Organization to keep yourself safe and help contain the spread of the virus.
1. Wash your hands with soap and water for 20 seconds.
2. Avoid touching your face, eyes, mouth, and nose.
3. Avoid contact with people who are vulnerable. And if you can't, wear a mask.
4. Cover your cough with the bend of your elbow.
5. Disinfect surfaces you regularly use.
6. If you feel unwell, stay at home and call your healthcare provider.
7. Only share information from trusted sources
Social Distancing
In line with HSE's advice on social distancing, we are minimizing the number of staff in our branches and we have added floor markings to aid you to keep to the advised distance of 2 Metres (6.5 Feet).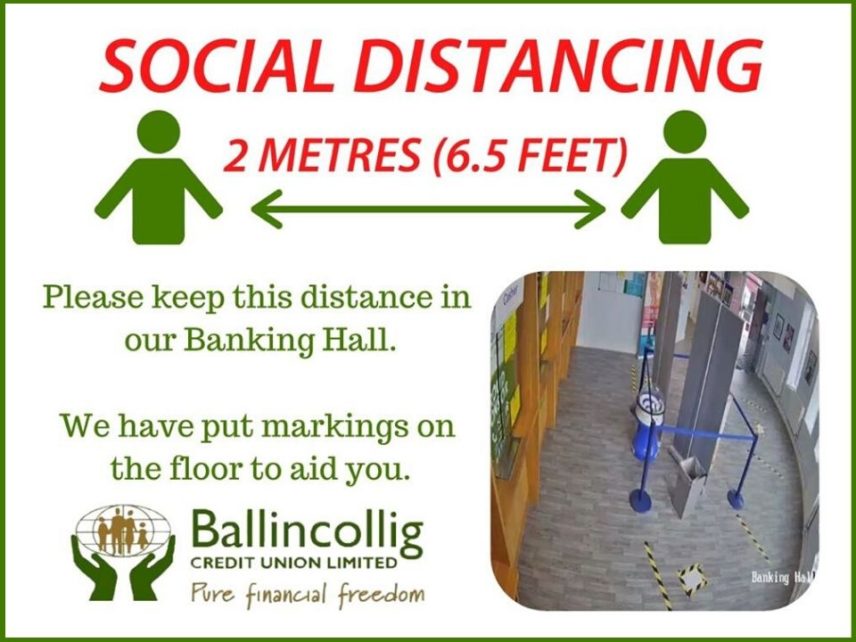 Changes to Branch Opening Hours
We will have the following temporary opening hours from Monday 30th April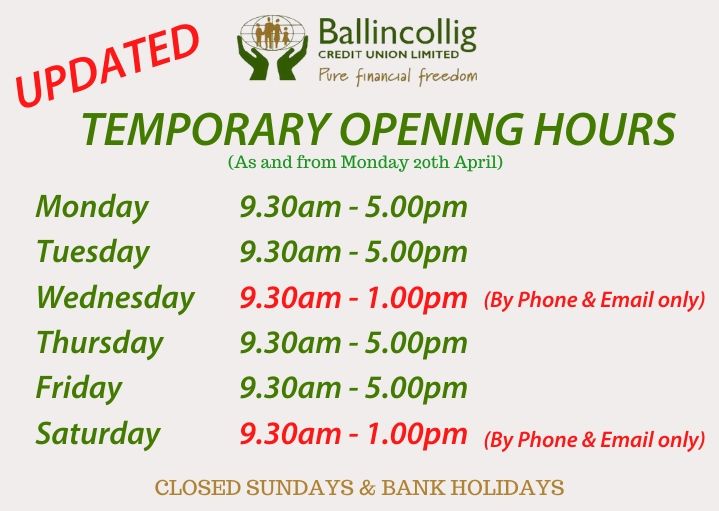 Difficulties relating to loan repayments
If you are economically impacted due to the COVID-19 response measures, please contact us by email on loansupport@bcu.ie. We are experiencing a high level of Phone Calls at present, but if you would prefer to call us then do so on 021 4872305 and dial 1 on the menu.
They will be able to talk to you about your options and, as each circumstance is unique, each request will be taken on its own merits.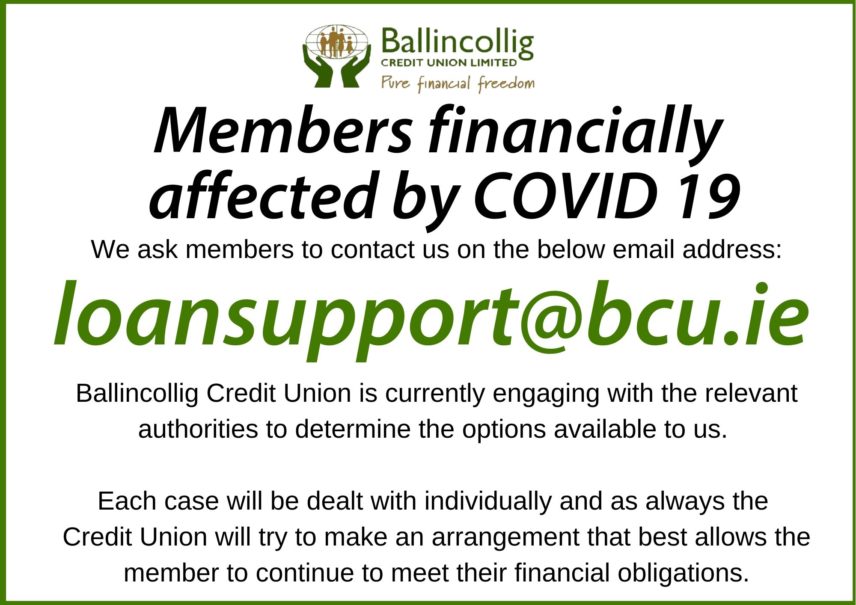 Things you can self manage with access to your account online

Transfer funds to accounts you have used before
Set up a new payee and transfer funds to that account
Make a loan application
Print statements
View your balances
Transfer funds
Use the secure email to give us instructions on account matters such as change address or change payroll deductions, etc.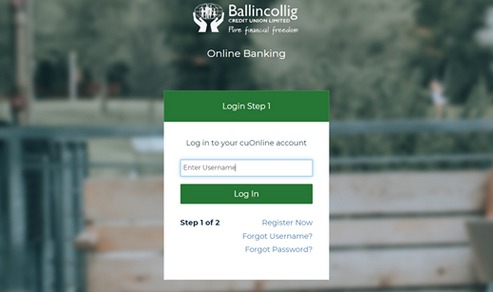 If you require a new Pin or Password to login then contact us on 0214872305 or email us on admin@bcu.ie.
If you are not set up for our online facility, you can do so by clicking HERE
Priority Hours for Elderly
Each Friday going forward, we are prioritising time in our office for elderly and vulnerable members from 9.30am to 11.00am.
We ask that the rest of our members would respect this allocated time.
Thank you for your continued support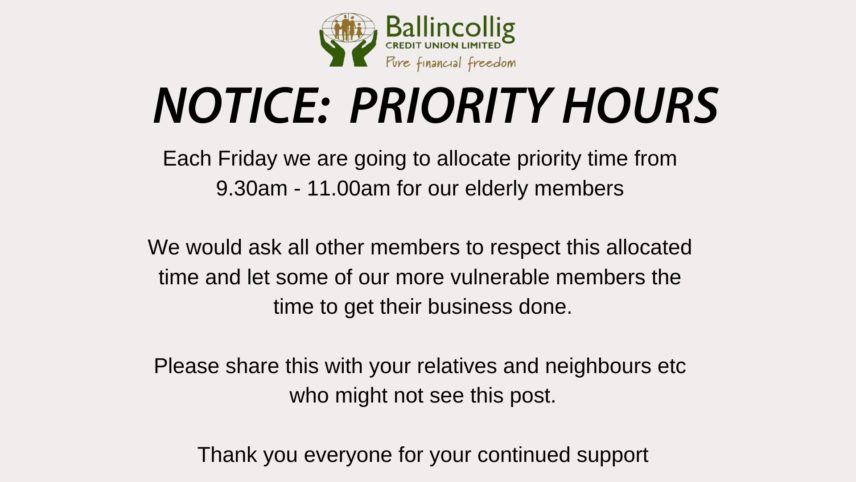 Our Community
Right now we need to look after each other more than ever. We would ask that all our members and their families look out for their elderly neighbours and family members.
A reassuring phone call or text message, an offer to grocery shop (taking the necessary precautions), will help those who may be less likely to seek help.
Let's beat this together, starting in our own community and helping those most vulnerable.
#community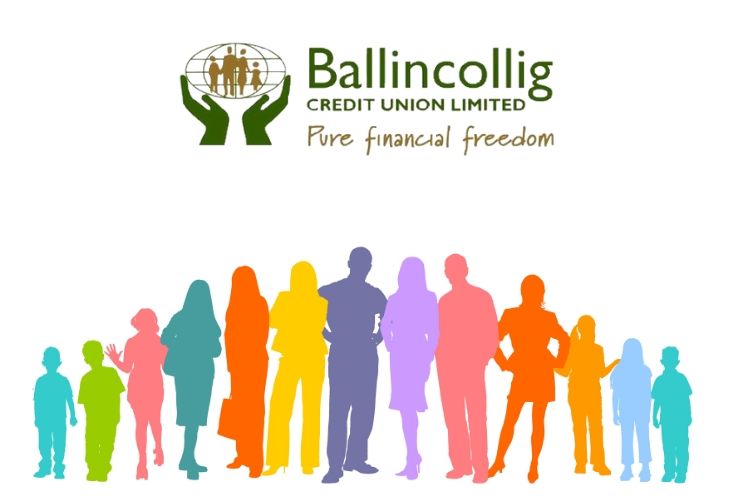 Do not see your need listed above?
If you cannot see your particular need listed here, please be reassured we can likely assist you via email on admin@bcu.ie or by telephone on 021 4872305 and talk it through. We are committed to assisting everyone we can however possible during this crisis.
Our office will remain open, we just wish to reduce physical contact to a minimum to help protect all of us in these uncertain times, please consider if it is absolutely necessary to attend the office before doing so.
IMPORTANTLY, if you have been in contact with anyone with COVID-19 please do not visit the office. Instead, give our office a call on 021 4872305 and we will assist you to complete your necessary financial transactions.
We are all in this together. Help us to continue helping you
Management and Staff of Ballincollig Credit Union