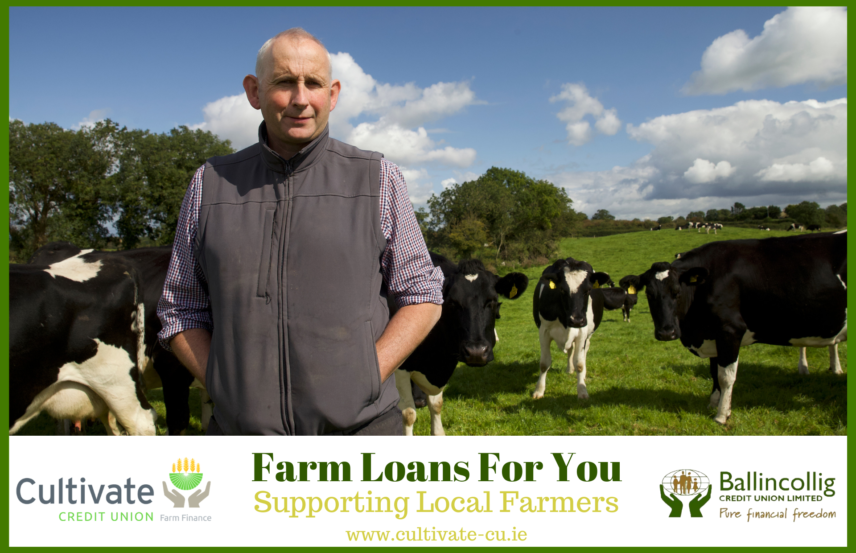 Local credit unions launch new Agri loan product CULTIVATE
Six Credit Unions in the Kerry/Cork region have come together and launched a new Agri Loan product called Cultivate in March 2019.
The Credit Unions involved are Ballincollig Credit Union, Bantry Credit Union and Kanturk Credit Union in Cork and Listowel Credit Union, Killarney Credit Union, and Cara Credit Union in Kerry
The new Credit Union farm lending offering is branded under the name "Cultivate" and was officially launched on the 20th March 2019 by IFA National Chairman – Farm Business, Martin Stapleton. The Credit Union farm lending project is modelled on a pilot initiative by four Credit Unions in County Galway who launched the Cultivate brand in 2017. Since then 20 credit unions throughout Ireland have introduced the Agri loan product to members.
Since its introduction, Cultivate has proved very popular with farmers with nearly €20m in loans issues to farmers. The Cultivate farm loans are for a wide variety of purposes, everything from working capital, cash flow, farm development, livestock purchase, farm machinery purchase, rural enterprise funding, and start up farm finance.
Brendan Heneghan, former Regional Manager with Teagasc, is the project manager of the Cultivate brand stated "We are delighted to officially launch the Cultivate Agri loan products to credit union members in Cork and Kerry area. We have been working hard on this project for the past number of months. Credit Union Agri loan staff have completed a bespoke 5-day course on Farm and Finance organised by Teagasc in association with Pallaskenry Agricultural college. Credit Unions are now open and ready for business" he concluded.
The Cultivate farm loan package will offer loans up to €50,000 for a variety of purposes. The loan rate is a competitive loan rate. The term of the loan can be up to 7 years. Loan protection insurance is also provided on the loan at no additional charge.
Simon Foley, Manager, Ballincollig Credit Union stated "Having grown up with an agricultural background, I am proud to be able to launch a product that supports an industry that has been beneficial to my family and the greater community. Ballincollig Credit Union is delighted to be in a position to meet the financial needs of  members farming within the Lee Valley ".
Appointments can be made to meet a Cultivate Farm advisor on 021-4872305 or admin@bcu.ie
Further information on Cultivate farm loans – www.cultivate-cu.ie.