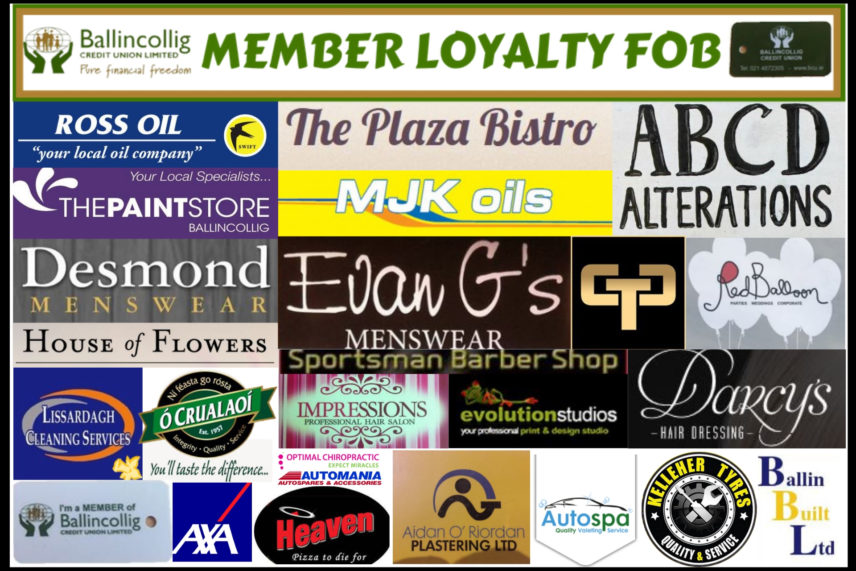 Here at BCU we are continually striving to increase our service to our members and help businesses in our local community. With the 'shop local incentive' in mind, we are delighted to launch the Ballincollig Credit Union Loyalty Fob.
As a valued member of Ballincollig Credit Union, the Loyalty Fob will entitle you to discounts with all our participating businesses within Ballincollig and its surrounding areas.
You can keep track of all the participating businesses and keep an eye on any updated special offers by clicking on any of the links below. We will also update our Facebook page regularly with any new offers that are available.
Don't forget to keep an eye out for our Logo in participating businesses and enquire as to the discount you can receive.
Happy Shopping!
ABCD Alterations – 10% discount on curtain making, Roman blind making & relining
Aidan O Riordan Plastering – 10% off labour costs
Automania – 15% discount *Excludes services
Autospa – Complimentary wet wax with any regular wash or valet
AXA – Up to 10% discount on CAR, HOME & TRAVEL Insurance
Ballinbuilt Builders – Special rate applies *inform at time of pricing
Ballincollig Jewellers – 10% discount *Excludes batteries, straps & repairs
Ballincollig Shoe Services – 10% discount
Beauty Boutique by Tara – 10% discount off all services
Cork Trophy Centre – 15% discount
D'arcy's – 15% discount for new customers only
Desmonds Menswear – 10% discount
Evan G's – 10% discount *Excludes school uniforms
Eilish Murphy – Transformational Life Coach – 45 min session – 20% off
Evolution Studios – 15% discount
Heaven Pizza – 15% discount *Excludes meal deals and other special offers
House of Flowers – 10% discount
Impressions Hair – Free treatment with every wash & blowdry
Kelleher Tyres – 10% discount on all products and services up to the value of €250 *Excludes any special offers
Kirbys – 10% discount
Lissardagh Cleaning Services – 10% discount off cleaning services
M&J Kelleher Ltd. Oil – €5 off 500 litre fill & €10 off 1,000 litre fill. *Cash & Card only
Ó' Crualaoí – Double points for BCU members
Optimal Chiropractic – 33% discount on initial consultation fee
Red Balloon – Free personalisation with every party package
Ross Oil Company – €10 off when 1,000 litres of heating oil ordered
The Paint Store – 10% discount *excludes special offers
The Plaza – 5% discount off breakfast & lunch
The Sportsman – Father & daughter (0-12yrs) haircuts only €21